Is it really November already?! It is!!! In this blog post you will find:
Details on our Raffle!

November's Club Colors.

Some great pattern ideas.
Join the Raffle!
The Round Mountain Fibers raffle is coming soon to a LYS near you! At participating LYSs customers will recieve 1 raffle ticker per skein of Round Mountain Fibers purchased. The prize: a 100g Fingering skein of Round Mountain Fibers! Tickets will be handed out and collected until November 30th, then each participating LYS will draw their winner. If you'd like your LYS to participate in our raffle tell them to contact us ASAP! Click the button below for a list of stores that carry Round Mountain Fibers.
November 2018 Club:
November's Club is based on the flora and fauna of Ecuador! I decided to venture out of the Northeastern United States for inspiration for the coming months, so we are taking a trip to my childhood home of Ecuador! The biological diversity in Ecuador is tremendous, so I chose plants and animals that I had a personal connection to. I hope you enjoy them!
Ornithology Club:
Colorway: Golden-tailed Sapphire
Semisolid: Hummingbird Purple
Fade Collection: Golden-tailed Sapphire Fade Collection
The Golden-tailed Sapphire Hummingbird is a small bright solitary bird that inhabits Bolivia, Brazil, Colombia, Ecuador, Peru, Trinidad, Tobago and Venezuela. They build their nests from soft plant fibers, animal hair, and spider webbing to give the nest elasticity so that it will stretch as the babies grow and need more room. To read more about these amazing little birds click here.
Colorway: Green-banded Urania
Semisolid: Urania Green
Fade Collection: Green-banded Urania Fade Collection
The Green-banded Urania Moth is a day-flying moth found in tropical South America. Although this beauty may look like a butterfly there are a few distinct characteristics that differentiate a moth from a butterfly. Moths make cocoons that are wrapped in silk, while butterflies form hard smooth chrysalises and butterfly antennae are thin with club-shaped tips, compared with the feathery or comb-like antennae of moths. You can read more about the Green-banded Urania Moth here and if you'd like to read more about the differences between butterflies and moths you can click here.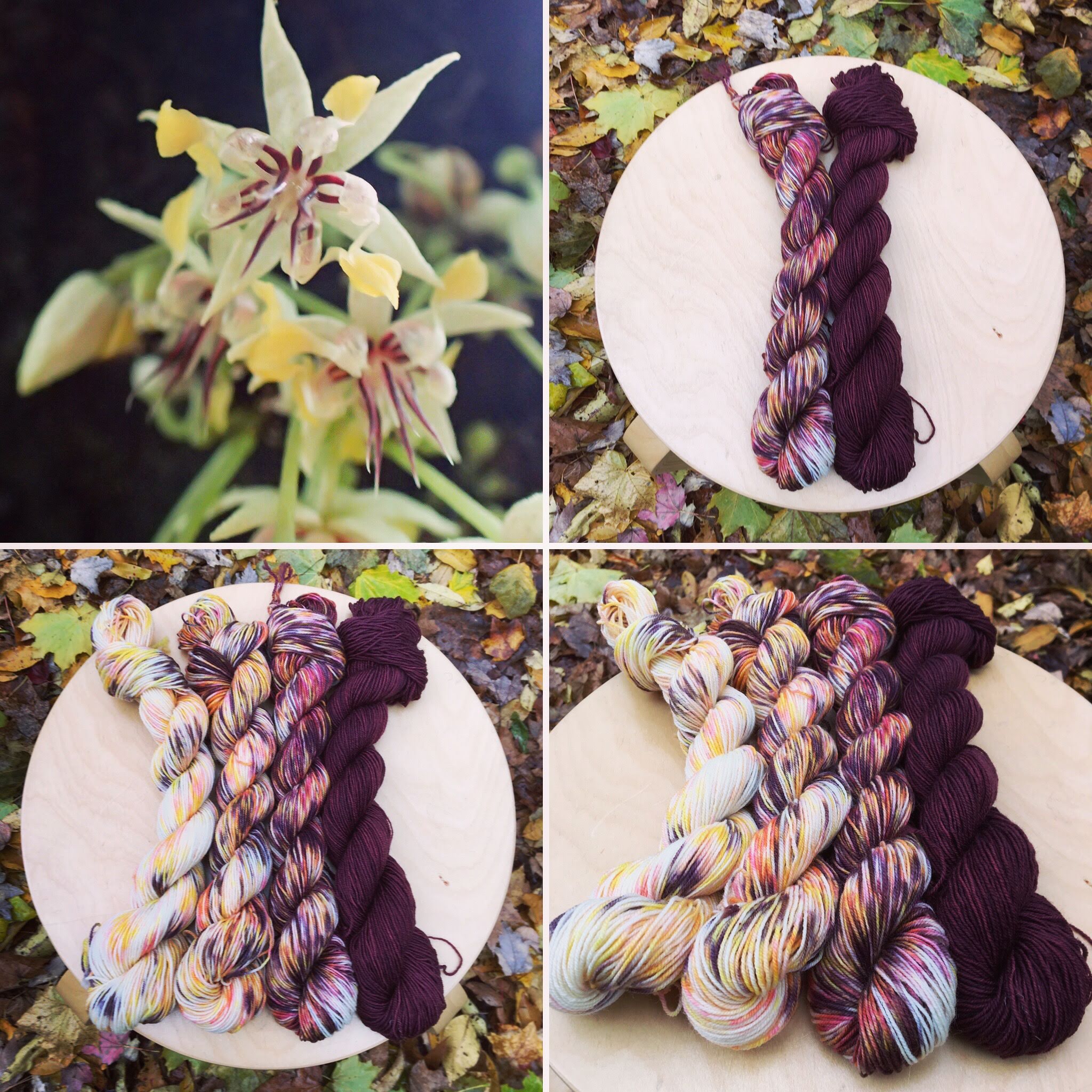 Colorway: Cacao Flower
Semisolid: Cacao Pod
Fade Collection: Cacao Flower Fade Collection
The Cacao tree is an evergreen tree native to the tropical regions of the Americas. Its seeds known as cacao beans are used to make cocoa powder, cocoa butter, and chocolate. The flowers of the Cacao tree bloom directly from the trunk and produce fruit called cacao pods. Each pod is filled with 20-60 seeds and a fleshy fruit which can be eaten or turned into juice and jelly. You can read more about this delicious plant here.
Pattern Ideas:
Do you love our fade collections? If you aren't sure what to make with yours check out this super cute Pint-Sized So Faded sweater!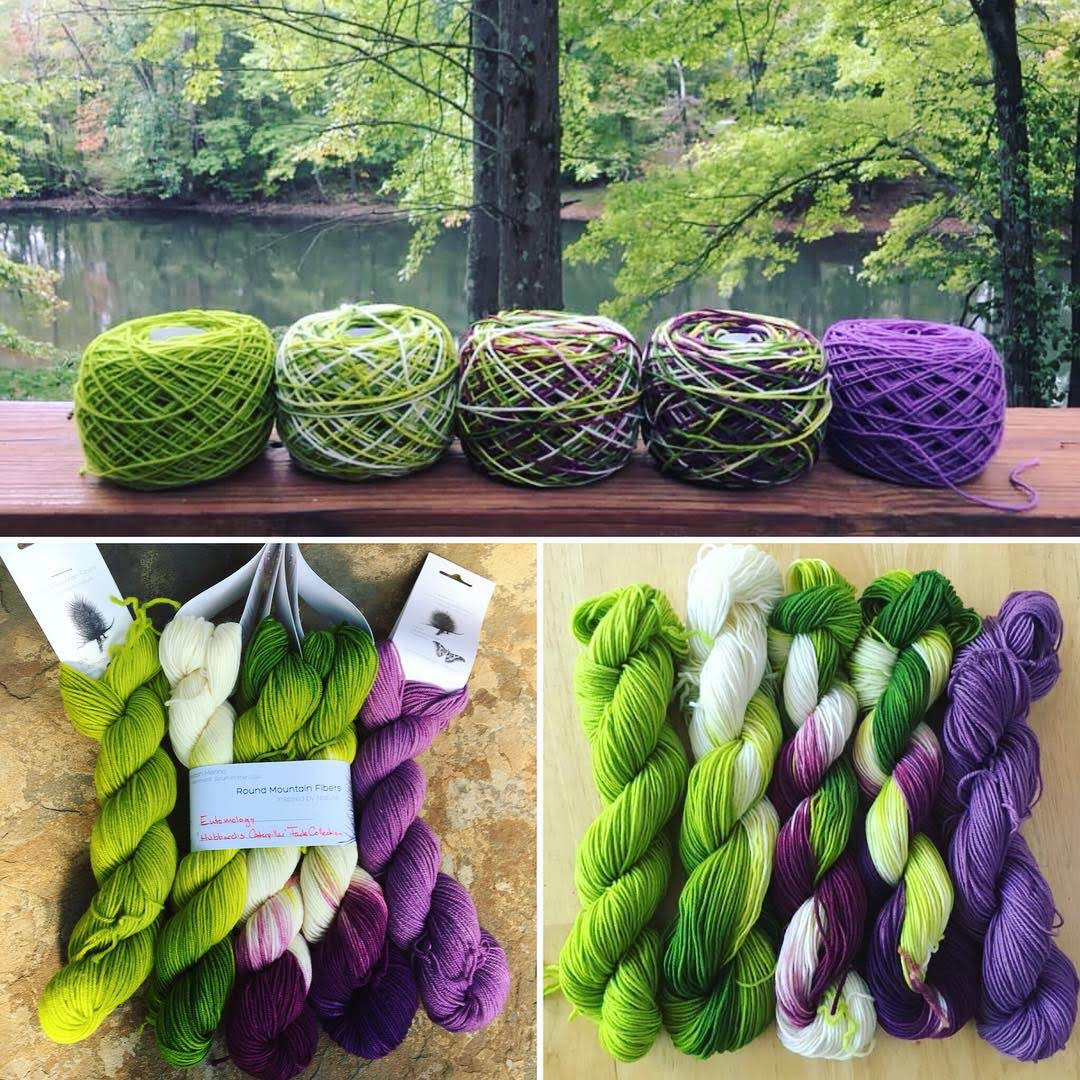 Project link: https://www.ravelry.com/projects/lynnsch/marfa
Then, of course, there's SOCKS!!! Our Spruce base is fantastic for socks. It's durable and stretchy and has great stitch definition. Check out this gorgeous pair of socks knit up in one of our Club colorways!