Welcome to our new Blog! We decided that a searchable blog made a heck-of-a-lot more sense than our old mailing list. We hope you enjoy it!

If you weren't aware, we have:
Hashtags on our Facebook Page, making it easier to find pattern ideas. Please see the post pinned to the top of our Facebook Page for a list of searchable hashtags! Facebook: RoundMountainFibers
 

An Instagram account. If you only follow us on Facebook, consider following us on Instagram as well! Instagram: roundmountainfibers
New products, pages, kits, collections and patterns:
NEW across all of the collections: 50g Worsted mini-skeins! ALL of our colorways and semisolids are now available in both Fingering AND Worsted miniskeins! Kit them up with your favorite Worsted pattern, or visit our Facebook Page for some pattern ideas!
NEW COLLECTIONS! Haven't checked out all our new colorways and semisolids? Visit our website to browse the new and exciting Entomology and Botany collections! Each feature 6 brand new colorways and 8 coordinating semisolids.
 
The Entomology Collection is bright and flashy, perfect for those of you wanting to add a little excitement to your knitting life!
The Botany Collection, in contrast, is a dark and moody palette. These colorways offer those of you who prefer a more subtle palette the opportunity to bring a little splash of fun and unpredictable into your work! These colorways are dyed using a very different (and labor intensive) process that makes each skein an individual work of art, with splashes and splotches of color, mixing and separating with minimal pooling and striping.
NEW for Drunk Yarn: A new website, www.drunkyarn.com, with clear directions and photographs to guide you through dyeing your own yarn! This includes instructions for our NEW Drunk Yarn Gradient kits. These kits contain Three 50g miniskeins, for a total of 150g to dye to make a lovely gradient! These gradient kits are available in BOTH fingering and worsted weights.
New Mini-skein Collections: In addition to our Gradient Gray Collections (offered across all three collections -Ornithology, Entomology and Botany- in both Fingering and Worsted mini-skeins) we have:

-18 new Ornithology Mini-skein Collections featuring each of our Ornithology colorways, and two coordinating semisolids.

-9 new 'Birds of a Feather' collections, featuring two colorways and two coordinating semisolids.
New Kits! The very popular 'One Way or Another' shawl, featured at the TNNA fashion show, and designed by the very talented Jennifer Kirchenbauer of LavishCraft, is now available at your favorite LYS as a kit, along with her lovely worsted weight 'Squelch' cowl, and the elegant 'Lava' Wrap! Feeling thrifty? Purchase the patterns here, and then purchase the yarn through our Seconds Store! Just specify that the yarn is for one of these three patterns, and we'll put together the perfect combination!
 

New Clubs! Club allows your Local Yarn Shop the opportunity to carry an exclusive, brand new colorway and coordinating semisolid in all three of our collections (Ornithology, Entomology and Botany)! In addition to those clubs, we've now added a new Miniskein Fade Collection! For a list of participating stores, go here!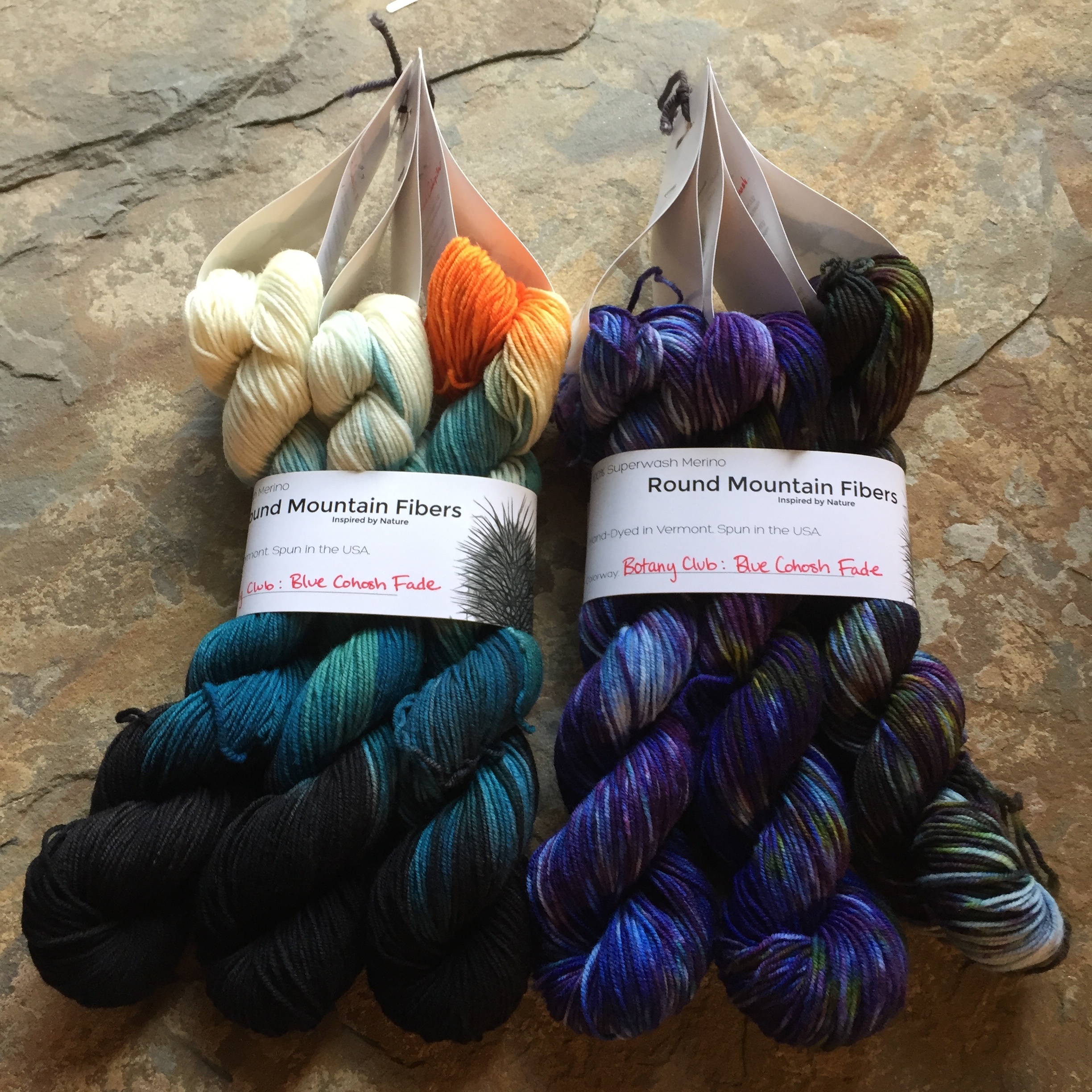 As always, shop for seconds and one-of-a-kind colorways through our online store, at www.roundmountainfibers.com. Happy knitting! Or crocheting, or weaving, or tatting, or spinning, or felting, or macrameing… is that even a verb? If it isn't it should be.